Ending the fantastic Nobel week with a very interesting panel discussion and lunch with young PhD students and the Nobel laureates in medicine or physiology! | -> Read more
Top picture: Caroline Ran, Andrea Carmine Belin, Michael Rosbash, Gabriella Lundkvist, Michael Young and Carmen Fourier.
After a hectic and very exciting week with major media attention the Nobel laureates in medicine or physiology 2017 participated in a much smaller and intimate setting 12 December 2017 in Nobel Forum, Karolinska Institutet. During this event young scientists (PhD students and postdocs) and a few senior scientists were invited to a panel discussion with the laureates Jeffrey Hall, Michael Rosbash and Michael Young. Prof. Thomas Perlmann chaired this interesting and more informal event, which gave rise to important and fruitful scientific discussions with the young scientists. I hope that the laureates enjoyed the discussion as much as we did! After the discussion a delicious lunch was served and we all had a chance to have a few words with the laureates.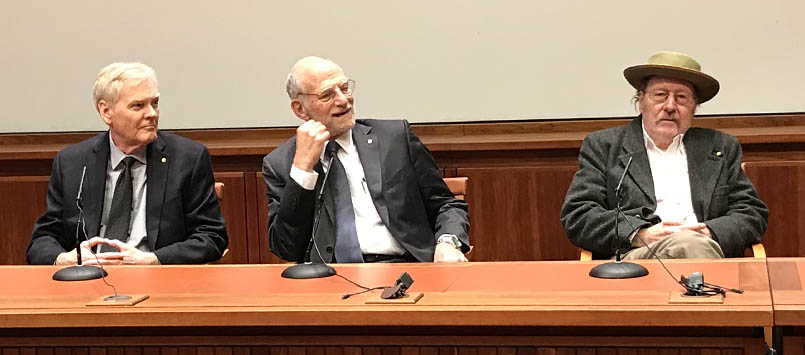 Michael Young, Michael Rosbash and Jeffrey Hall at the podium discussion in Nobel Forum.
Below: Thomas Perlmann chaired the event and lead the dicsussion.